I ranked every song in the Mean Girls cast album
The Mean Girls Original Broadway Cast Recording was released on Friday, and it's not what I expected at all. From playwright Tina Fey, composer Jeff Richmond and lyricist Nell Banjamin, the songs from the show are telling of the social dynamic amongst teens in a highly realistic and unsurprisingly comical way. Mean Girls has been nominated for 12 Tony awards including Best Musical.
Although I'm still listening to the cast album on repeat to see if some of the songs will cling onto me more, I formed a definite opinion of the music after listening the first time around: Richmond, Nell and Fey did a phenomenal job capturing the different characters' personalities and stories through the different styles of songs. It was a brilliant way to make the characters more dynamic and distinguishable. After all, I think a large part of what the show is trying to convey, besides other important messages, is that everyone has their own unique style, and it's important to find your own rhythm or flair.
With many styles on display in the album, it was hard to compare a lot of the songs, so this list comes in pairs. Here is my ranking of the 21 songs on the Mean Girls cast album from "least likely to listen to on a regular basis" to "most likely to be added to my 'Greatest Showtunes of all Time'" list:
11. "Whose House Is This?" & "Do This Thing"
I have no doubt these songs are great when performed live, and I especially thought "Do This Thing" was a really cool way of incorporating the math championship competition into the show. They just don't seem like songs I would listen to all the way through on their own.
10. "What's Wrong With Me? (Reprise)" & "Someone Gets Hurt (Reprise)"
I actually like these songs a lot, and we get to hear Kerry Butler (Mrs. Heron/Ms. Norbury/Mrs. George) sing in "What's Wrong With Me (Reprise)"!
9. "Where Do You Belong?" & "Sexy"
"Where Do You Belong" seems like such a funny scene in the show, and it's definitely a creative translation of the lunchroom clique scene from the movie to the musical. Also, I had not heard Grey Henson (Damian Hubbard) sing before I listened to this cast recording, and I think his voice is phenomenal. Henson is also so incredibly funny and so deserving of his Tony nomination for his role in the show. "Sexy" is Kate Rockwell's solo song as Karen Smith, and it is basically an extended, musical version of the "I'm a mouse, duh!" scene from the movie. Rockwell does the iconic scene justice.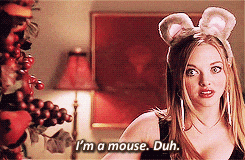 8. "A Cautionary Tale" & "It Roars"
These are the two opening songs of the show, and I tend to think of them as one. I really enjoy the drums and melody of "It Roars." It's also funny to hear Cady's excitement and understandable naiveté before her idealistic thoughts come crashing down.
7. "Fearless & "I See Stars"
Both of these songs put a smile on my face when I listened to them because they are so empowering in their lyrics and melodies. Also, can someone who has seen the show tell me who Cady sings "I See Stars" to? I love the meaning of the song, and I hope she's singing it to her classmates and the "plastics."
6. "What's Wrong With Me" & "Stop"
2018 Tony nominee Ashley Park (Gretchen Wieners) gets to showcase her stunning voice in "What's Wrong With Me," and the song also adds a certain depth to Gretchen's character that's only vaguely explored in the movie. "Stop" was really truthful in its lyrics, and again, Grey Henson is still phenomenal. This might just be me, but I think Mean Girls' "Stop" is reminiscent of The Book of Mormon's "Turn It Off" in the best way possible.
5. "More Is Better" & "Stupid With Love (Reprise)"
These two songs are duets with Erika Henningsen (Cady Heron) and Kyle Selig (Aaron Samuels). I'm surprised Aaron Samuel's character didn't get his own song, but I love his parts in these duets, and I REALLY want to see these scenes in person.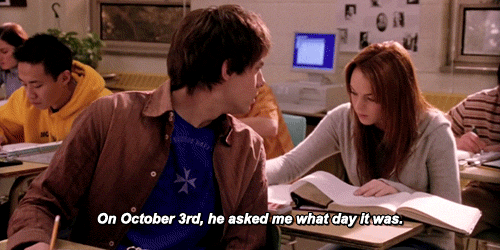 4. "Meet The Plastics"
Being a very integral part of the show, the "plastics" were definitely given a proper introduction. You just have to listen to it yourself.
3. "Revenge Party" & "World Burn"
I would say these two songs capture two of the most pivotal moments in the show, and they definitely create the caliber of drama and excitement that is essential for those moments.
2. "Apex Predator" & "I'd Rather Be Me"
These two songs were performed live and were released before the cast album was released as a whole, and I have been listening to them since. Barrett Wilbert Weed (Janis Sarkisian) is nothing less than a powerhouse of a vocalist and her harmonies with Erika Henningsen in "Apex Predator" are complete magic. I annotated "I'd Rather Be Me" here.
1. "Stupid With Love" & "Someone Gets Hurt"
Although I love the other songs on the Mean Girls cast album, these two are by far my favorites, and I couldn't pick between the two of them because they are so different. Erika Henningsen's voice is bright, borderline angelic and so perfect for her role. By the way, I think the casting for this show was spot on. "Stupid With Love" is just so upbeat and the bridge is definitely my favorite part of the song.
I will conclude this ranking by talking about Tony nominee Taylor Louderman who completely blew me out of the water and surprised me with her high, cut-throat belting in Mean Girls. I love "Someone Gets Hurt" and am always amazed by Louderman's talent and ability to bring her unrivaled humor to every role she takes on.
You can listen to the entire cast album here:
Please reload