I annotated the lyrics to Mean Girls' "I'd Rather Be Me"
Barrett Wilbert Weed performed on The Tonight Show Starring Jimmy Fallon last night, and Mean Girls on Broadway released "I'd Rather Be Me" for digital streaming and download.
I've been up since 8 a.m. and have been listening to it on repeat since.
It seems like Jeff Richmond composed this song to have a rock-like feel, which is incredibly fitting for Janis Ian's character. I'm more of a power-ballad type of gal, but Nell Benjamin's lyrics are enough to drag me to the other side. Also, BARRETT WILBERT WEED. Name one thing more powerful than her voice. I dare you.
Barrett Wilbert Weed on the Tonight Show 
Since Benjamin wrote meaningful and powerful words to accompany Richmond's music, I thought they deserved some recognition. I broke down the song with my own personal commentary below in pink.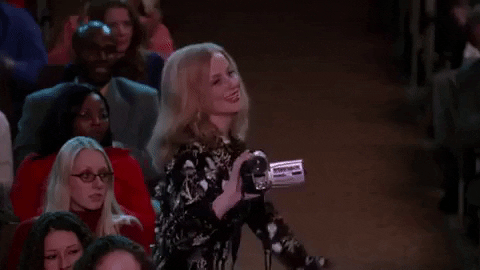 So your best friend screwed you over   
Acted nice when she's not nice   (I'm guessing this song is dedicated to Cady and Regina's "friendship.")
Well, I have some advice
'Cause it's happened to me twice
Here's my secret strategy
It always works because
The world doesn't end
It just feels like it does   (I might be over-analyzing this, but I've had A LOT of moments where I've gotten anxiety from trying to leave certain relationships. Looking back, I can firmly confirm that this statement it true.)

So raise your right finger
And solemnly swear 
"Whatever they say about me
I don't care"    (YES. Listening to your own voice might be hard when everyone else's opinions are loud in your mind, but it's so important!)

I won't twist in knots to join your game
I will say, "you make me mad."
And if you treat me bad
I'll say "you're bad"

And if I eat alone from this moment on
That's just what I'll do
'Cause I'd rather be me, I'd rather be me
I'd rather be me than be with you

We're supposed to all be ladies
And be nurturing and care
Is that really fair?
Boys get to fight, we have to share
Here's the way that turns out
We always understand
How to slap someone down
With our underhand   (I think this is a way of saying that, contrary to boys' expectations, girls are expected to be somewhat passive when frustrated--which sometimes leads to a lot of deceptive interactions.)

So here's my right finger
To how girls should behave   (Why should girls have to appease society's standards to keep the peace? If girls don't like the way they're being treated, they have every right to speak their minds.)
'Cause sometimes what's meant to break you
Makes you brave

So I will not act all innocent
I won't fake apologize
Let's just fight and then make up
Not tell these lies   (AUTHENTIC FRIENDSHIPS ARE THE MOST VALUABLE FRIENDSHIPS, and the most unhappy friendships I've been in were the ones where I didn't say what I truly felt.)

Let's call our damage even
Clean the slate till it's like new
It's a new life for me
Where I'd rather be me
I'd rather be me
Than be with you
I'll say, "no"
I'll say, "knock it off, with your notes and your rules and your games."
And those sycophants who follow you
I'll remember all their names

And when they drag you down
Like they inevitably do
I will not laugh along with them and approve their palace coup, 'cause that's not me   (I got a lot of "Sonya Alone" vibes from these lyrics. It's important for girls to support other girls, even when it can be easy to resent others or be unkind.)

[FEMALE STUDENTS]
Janis. Janis. Janis. Janis   (Same.)
I don't need their good opinions
I have plenty of opinions
Everybody has opinions but it doesn't make them true   (True! Everyone has their opinions whether they vocalize them or not, but those opinions do not determine who you are. YOU determine who you are.)
What's true is being me
And I'd rather be me
I'd rather be me than be with you

So raise them high 'cause playing nice and shy is insulting my IQ   (I only slightly disagree with this lyric. There's nothing wrong with being nice and shy. It's just important to also by kind and authentic.)

I'd rather be me
I'd rather be me
I'd rather be me than be with you!
 
I'd rather be me
I'd rather be me
I'd rather be me than be with you!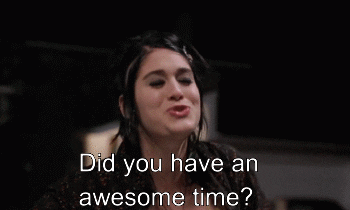 Do I think some of the lyrics are borderline cheesy? Yes. But do I also think this song has a super relevant and powerful message? Yes. I haven't seen Mean Girls on Broadway yet, but it seems like it has a lot to offer--especially in terms of female empowerment. Until the full cast-album is released, let Janis Ian be your guide to kindness, honesty and authenticity. 
Please reload