I pride myself in my ability to recognize nearly every princess song within the first two or three notes (and sing the rest to you without stumbling on any lyrics), but as a kid, I was never really able to identify with the stories. Don't get me wrong, creating narratives where we are meant to empathize with animated royalties almost seems like too much to ask, and it kind of is. In their essences, I've admired the journeys made and the obstacles conquered in the princess stories I treasured growing up. But, part of me found it hard to conceptualize the stories as real, and I think stage adaptations tend to fill that gap. I discovered Anastasia upon seeing a video of Christy Altomare singing "In My Dreams" in the early stages of the show's production, and it immediately felt authentically human. I found the story of Anastasia later in my life, but maybe it was supposed to work out that way.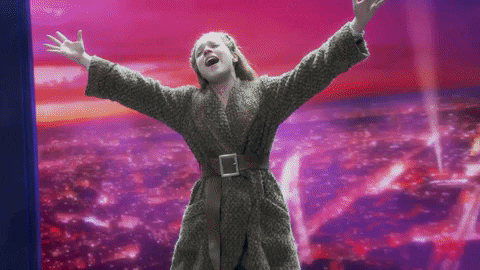 I saw the show in the summer of 2017 on an unexpected trip to New York City, and I can still picture The Broadhurst Theatre's sea of purple along the Great White Way. Once we were seated and the orchestra began to play while the curtains rose, my heart fluttered a little. From Ahrens & Flaherty's music to the intricately beautiful costumes made by Linda Cho, the show immediately immersed me in the world of Anastasia—a world in the midst of change and revolution for both the country and its people.
Derek Klena and Christy Altomare singing "In a Crowd of Thousands"
Among these people seeking to create change are Vlad, Dmitry, and Anya. Dmitry and Vlad both hope to rise in financial class and status while Anya joins the two in hopes that they will help her discover her past. Although different in their goals, the three ultimately seek acceptance.
Anya's character represents perseverance, bravery, love, and agency. She holds tradition in her heart but keeps individualism in mind. Gleb, whose character can be seen as a more realistic take on the movie's Rasputin, juxtaposes Anya's character because his choices are more influenced by his past and what others expect of him.
Anya's character is strong, but she is also vulnerable and kind. This is why Christy Altomare is such a perfect actress to play the role. Altomare's ability to channel realistic emotions so well is a large reason why this princess story doesn't feel too far off from reality. Every movement and every tone in her voice is so authentically human. If her voice quakes in a song, it's most likely a result of the closed-up feeling you get in your throat before crying. Without seeing her facial expressions when she sings, you can pinpoint every emotion she is portraying in the scene. It is apparent that Altomare truly means every lyric, and the words seem to just naturally melt together into song.
Christy Altomare singing "Journey to the Past"
The cast of Anastasia is composed of such talented dancers, singers, and actors that will give you goosebumps in every number involving the full ensemble (prepare yourselves for "Stay, I Pray You"). I don't want to give too much away, but there is a Swan Lake scene that I still think about, and it has set the bar for beautiful dance numbers. Speaking of beautiful dance numbers, Caroline O'Connor is a force to be reckoned with in "Land of Yesterday."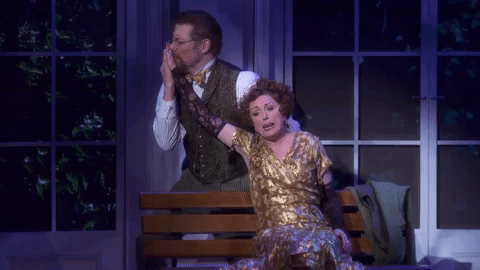 I've made it apparent that this this show has some of the best costumes I've ever seen, music that I could never get tired of listening to, and performances that showcase incredible talent. But, with all of those qualities stripped away, this show is still special and important because through its slightly unrealistic ways, it showcases realistic struggles. Anya and the characters in Anastasia highlight the importance of taking agency in our own lives. And while Anya craves a certain past and Dmitry yearns for an idealized future, the two together demonstrate the harmony between the "then" and the "now." This show demonstrates the importance of using your authentic ideals to carve out a path of your own while having faith that no matter where that path takes you, you will still have the strength to choose the things that make you happy. Anya is proof that you have to believe in yourself before you can believe in others or what others expect from you.

I use Broadway cast recordings to mark segments of my life, and the period of my life where I started really listening to my authentic self now belongs to Anastasia.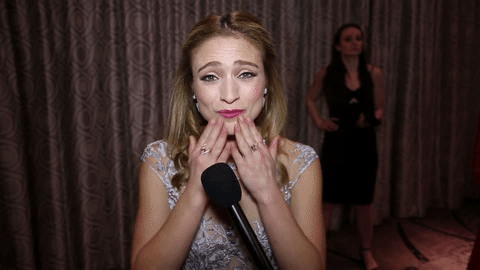 Stage door experience
I think the most exciting part of this stage door experience was being able to see Christy interact with her fans. I had two tiny paintings and  a card to give her, but I could barely get anything out of my mouth from the shock of finally meeting her. She thanked people for coming to see the show, gave out as many hugs as she could, and was just as patient as I thought she would be (VERY patient).
Derek Klena was also very kind, and I vividly remember him giving out multiple group hugs to people before his walk home. I was able to mention Mary Beth Peil's Tony nomination to her and witness her elegance in person. John Bolton and Caroline O'Connor were just as fun and outgoing as their characters, and O'Connor explained the origins of her British-Australian accent. Zach Adkins, the next Dmitry, also signed my Anastasia sheet music and asked me which song I was going to play next ("In My Dreams," of course). 
Out of all these interactions, I think my most memorable one was with Ramin Karimloo. I was too starstruck to say anything of substance, so all I did was softly yell, "Hi, Ramin." I think he glanced over at me briefly, but I don't think he knew the noise came from an actual person.
Background
Anastasia the Musical is inspired by the 1997 animated film Anastasia and tells the story of a young woman, Anya, who has no memory of her early life. Anya lives in Russia during the early 20th century, a time of social and political change. Amidst this change, Anya hopes to discover her past, and on her journey, she meets two fellow outsiders who crave a better future. The musical has a book written by Terrence McNally, music and lyrics by Stephen Flaherty & Lynn Ahrens, and costumes designed by Linda Cho.
Cast at this performance
Little Anastasia/Alexei Romanov—Nicole Scimeca
Dowager Empress—Mary Beth Peil
Tsarina Alexandra—Lauren Blackman
Tsar Nicholas II/Count Ipolitov/Count Gregory—Constantine Germanacos
Young Anastasia/Paulina—Molly Rushing
Maria Romanov/Marfa—Sissy Bell
Olga Romanov/Odette in Swan Lake—Allison Walsh
Tatiana Romanov/Dunya—Shina Ann Morris
Countess Lily—Caroline O'Connor
Gleb—Ramin Karimloo
Dmitry—Derek Klena
Vlad—John Bolton
Anya—Christy Altomare
Gorlinsky/Count Leopold—Ken Krugman
Doorman—West Hart
Countess Gregory—Janet Dickinson
Prince Siegfried in Swan Lake—Kyle Brown
Von Rothbart in Swan Lake—James A. Pierce III
Suitors, Soldiers, Comrades, Ghosts, Parisians, White Russians, Waiters, Reporters, Cygnets in Swan Lake—Zach Adkins, Lauren Blackman, Sissy Bell, Kyle Brown, Janet Dickinson, Constantine Germanacos, Wes Hart, Ken Krugman, Shina Ann Morris, James A. Pierce III, Molly Rushing, Jennifer Smith, Johnny Stellard, Allison Walsh
Swings—Kathryn Boswell, Kristen Smith Davis, Ian Knauer, Dustin Layton
Please reload