Calling all ladies, gentlemen, and those who have yet to make up their minds: Kinky Boots is a must-see and here's why…
Going into Kinky Boots, the only thing I knew about the show was that the lead singer of Panic! at the Disco, Brendon Urie, would be playing the role of Charlie Price. We sat front row, the closest I have ever been to a Broadway stage, and had a conversation with a very friendly and welcoming musician in the orchestra pit amongst the pre-show chatter.
The set of the musical allowed a look into the Price and Son shoe factory, one that is brimming with tradition in every way. This made Northampton, England, a town that is portrayed as highly conservative, the perfect setting to host traditional mentalities and provide a stark contrast to Lola's dynamic personality.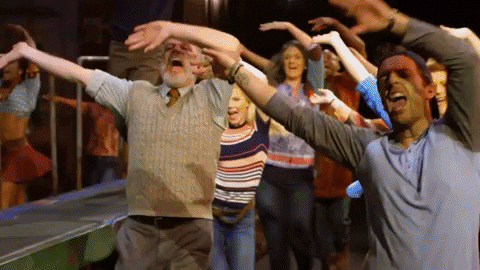 Lola, played by J. Harrison Ghee, is a character who is anything but conventional. As the star performer of a group of drag queen "Angels," Lola is fierce, confident, charming, and everything Charlie Price desperately needs to be in order to save his family business.
As someone who was not super familiar with Brendon Urie's work before I saw him perform as Charlie Price, I was truly overwhelmed by his talent and his virtually-flawless vocal performance. Urie's co-star J. Harrison Ghee had one of the most powerful stage presences I have ever seen and played the role of Lola with humor, vulnerability, and so much heart. Amidst all of the emotionally-demanding scenes between Urie and Ghee stood Taylor Louderman, who played Lauren—a quirky, sweet, and eerily-relatable character. Louderman had the audience erupting in laughter with every move she made because her comedic timing and overall performance was so great.
Brendon Urie as Charlie Price 
The reason I love Kinky Boots so much is because it has a simple and timeless message of acceptance. Acceptance of yourself, acceptance of the way life might throw unexpected challenges your way, and acceptance of others. The musical is so high-energy and unforgettably creative but is able to convey such a meaningful message at the same time. Watching Kinky Boots was kind of like your parents slipping vegetables into your favorite food as a kid—good for you and often hard to take in, but wrapped in something so wonderful you don't even notice.
Kinky Boots is proof that if you make an effort to make a connection with someone and forfeit some pride for empathy, you can make beautiful friendships…and shoes. Kinky Boots is not only hilarious and full of great music, it is a feel-good experience that spurs introspection. Because, after all, "you change the world when you change your mind."
Stage door experience
This was probably one of my most interesting experiences at the stage door. As soon as we got out of the theatre, the crowd to meet Brendon Urie was so large that I had to stand back with all the parents to stop myself from being trampled. Although the stage door was crowded with fans, Urie signed a lot of playbills and made sure he got selfies with nearly everyone who wanted one. His fans gave him artwork, and he seemed truly appreciative of the gifts and words he received from them. I was disappointed that I couldn't meet and speak with Taylor Louderman, but I understood how much everyone wanted to see Urie. While we were waiting for the cast to come out, a man ran, pushed through people, and jumped over the barricade before being dragged out by the security guard. The security guard explained that the same man had done that on multiple occasions.
Background
Kinky Boots the Musical was created by Jerry Mitchell, Cyndi Lauper, and Harvey Fierstein and is based on the 2005 film "Kinky Boots." It tells the story of a man, Charlie Price, who is suddenly faced with a couple of life-changing surprises: new ownership of his family's shoe business and an unexpected friendship with Lola, a fierce drag queen who acts as a beacon of wisdom for the workers of Price and Son Northampton shoe factory. In 2013, the show won six Tony awards, including Best Musical.
Cast
Mr. Price—Stephen Berger
Young Charlie—Christopher Convery
Young Lola—Devin Trey Campbell
Simon Sr.—Eugene Barry-Hill
Nicola—Shannon O'Boyle
Charlie Price—Brendon Urie
George—Marcus Neville
Don—Daniel Stewart Sherman
Lauren—Taylor Louderman
Pat—Natalie Joy Johnson
Harry—Jake Odmark
Lola—J. Harrison Ghee
Angels—Kevin Smith Kirkwood, Fred Odgaard, Kyle Post, Eric LaJuan Summers, Charlie Sutton, Hernando Umana
Trish—Jennifer Perry
Richard Bailey—John Jeffrey Martin
Milan Stage Manager—Adinah Alexander
Ensemble—Adinah Alexander, Eugene Barry-Hill, Stephen Berger, Justin Colombo, Mia Gentile, Blair Goldberg, Natalie Joy Johnson, Eric Leviton, John Jeffrey Martin, Jake Odmark, Jennifer Perry, Stephen Tewksbury
Please reload