I asked Wicked fans to send me their Wicked stories. Here's what I gathered from their experiences:
(Some responses were edited for clarity and brevity)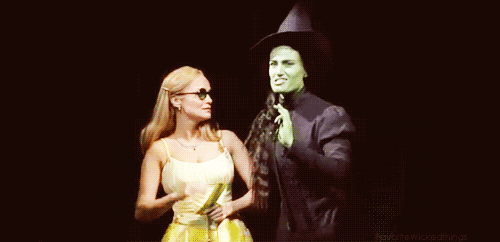 1. This sweet Christmas present
"All through fall of 2016, I told my mom over and over again that Wicked was coming to Minneapolis, and she told me over and over that it was too expensive. I was so surprised when I got tickets for Christmas! Fast forward to May 11, 2017. I'd had a countdown to this day ever since Christmas, and I was so incredibly excited to see my first Broadway show (technically it's a tour but you know what I mean)! My mom and I sat in the second row of the balcony, and we were super close to the Time Dragon Clock! Once the show started, I was completely immersed into the world of Wicked (Oz, if you will). Defying Gravity left me with chills and I was just completely in awe!

After the show, I went to the stage door and met a ton of cast members, including Ginna Claire Mason (who played Glinda) and Jessica Vosk (who played Elphaba)! The whole night was such an incredible experience I'll never forget, and I'm so grateful to my parents for finding the money to be able to take me!"
—Avery (@averybway)
2. Dancing Through Life (and childhood)
"So after I saw Wicked when I was about 8 or 9, I spent every day dancing very badly to the soundtrack in my basement, and I would pretend that the TV was the audience. I would do all these crazy dance moves and I would like make my sister record it. We still have videos and, every so often, I pull them out to watch them like 'Oh no what did I do?'"

—Catherine (@cj_stat)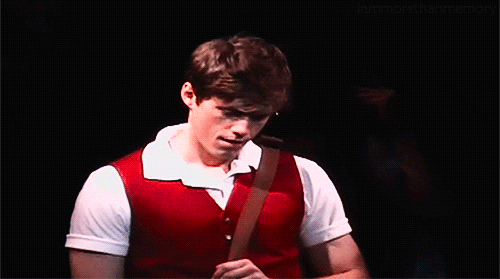 3. Getting to watch a Newsies idol
"Kara Lindsay, one of my favorite Broadway actresses (and Katherine from Newsies), was my Glinda for this performance!  Having been a fan of Newsies for years, it was such an amazing experience to be in the presence of one of my Broadway IDOLS. The best thing about watching this performance was Kara Lindsay's humor: everyone in the audience laughed themselves to tears watching Kara. After the show, I basically ran out so that I could meet some of the cast at the stage door. Unfortunately, it had snowed all day, and for the safety of the fans and the cast, no cast members came out to the stage door. So, I still haven't met the love of my life, Kara Lindsay, but I did get to watch her perform in person, and I even snagged a little picture of her.  Seeing Wicked in NYC was amazing, and being able to see Kara Lindsay in the production was the icing on the cake.
Also, the day I saw Wicked, I had also participated in a musical theater workshop where my choir and I actually got to meet and rehearse with a swing from Wicked named Tess Ferrell. We learned a section of vocals and choreography from 'One Short Day,' and we did a Q&A with her about her Broadway experience. Later, she was actually in our performance as Nessa!"
—Christa (@christarelli)
4. Thank Goodness for such a good time
"I went to see wicked December 8th, 2017. Quite honestly, it's the most magical beautiful show I've seen in quite some time. Mariand Torres KILLED IT OMG. I had the best hecking time and I want to say thanks to the entire cast, crew, and orchestra because wow."
—Anonymous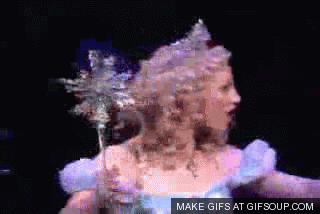 ​5. A sweet, Ga-lindafied 16 
"I went to see wicked for my sixteenth birthday. I was in the fourth row and was dead center. The show was beautiful. The best part of the story is when I went to the stage door. Glinda, played by the awe-inspiring Carrie St Louis, came out and said hi. She was so sweet and signed my playbill. I told her it was my birthday and she sang me happy birthday. That meant a lot, especially since she had just sang her butt off twenty minutes earlier. She has such a kind heart and sweet spirit and is so talented. If you ever have the chance to see Carrie perform, take it. It'll change your life."
—Izzy (@izzy.dangerous)
6. Defying road-trip plans and finding inspiration on the way
"My mom and I were going on road trip to Orlando, Florida for a couple days. But we weren't even out the neighborhood before we realized we were sick of Florida and wanted to switch it up...so we dRoVe tO NeW YoRk.

At the time, I was absolutely obsessed with Wicked. I begged my mom to let us see it in the short amount of time we would be there. When we entered the theater, I couldn't help but cry. All I did was walk in the doors and I cried. When we got to our seats, we were 10 rows back. The view was perfect for seeing all the facial expressions, and perfect for seeing all the visual stuff like Defying Gravity, flying monkeys, etc. After the first act, I couldn't stop sobbing. I was going through some self-hatred problems at the time, and Defying Gravity was exactly what I needed. I want to inspire people the way Dear Evan Hansen, Book of Mormon, and of course Wicked have inspired me."

—Amelia 
7. Two best friends watching two best friends
"I've seen Wicked twice. One time was with my best friend and her mom and the second time was with my best friend and my mom six years later. I loved the show both times. The first time was the start of my broadway journey with my best friend. We are now 'Broadway buddies' and we see shows together all the time. What I really like about Wicked is how creative it is and how it ties in the storyline of The Wizard of Oz so perfectly. It's amazing how someone can come up with brilliance.

—Abri (@abriweissman4)
Please reload