To be completely honest, out of the infinite reasons to see this show, one specific thing got me to beg my mother to take me as a birthday/Christmas/graduation present. This "specific thing" was a Broadway.com video of Jessie Mueller singing "She Used to Be Mine" from the earlier stages of production. It bombarded me, it attacked me, it brought on unwanted tears, but it also granted me one of the happiest nights of my life.
Broadway.com preview video of "She Used to Be Mine" 
Since this was my birthday/Christmas/graduation present, I was able to swing fifth row Orchestra seats (I suggest trying to get seats on the right side of the theatre because I feel like the actors were on the left side of the stage quite frequently). Walking into the Brooks Atkinson Theatre was nothing short of magical—the subtle scent of pie dances through the lines of people waiting to be seated. Luckily, they don't tempt you with the scent of warm pie without selling the cutest miniature-mason-pie-jars in the lobby.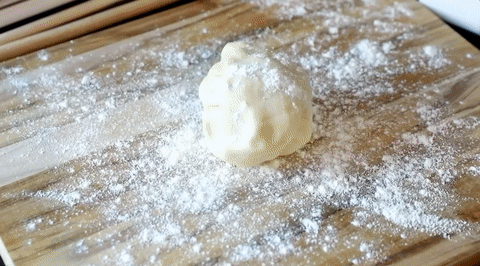 Once the curtain rose and I saw Jessie Mueller, in the flesh, the feeling of wow I can't believe that I am actually here hit me so hard that by the time "Opening Up" was being performed, I was drenched in my own tears. Caitlin Houlahan and Charity Angél Dawson's "The Negative" transported me into something out of a rom-com... You know, the very beginning of the rom-com where the camera pans to the one situation which fuels the dilemma of the story. This dilemma being: Jenna (Jessie Mueller) is pregnant with her insensitive and empathy-lacking-husband's baby. And while Jenna is practically alone in her marriage, her friends at the diner are always by her side, despite the difficult situations they're dealing with themselves.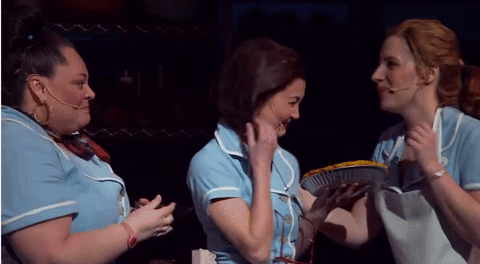 Original Broadway cast: Keala Settle (Becky), Kimiko Glenn (Dawn), and Jessie Mueller (Jenna) respectively 
Houlahan does a stellar job playing a quirky, scatter-brained, anxious, and kind-hearted Dawn. Her character's solo song "When He Sees Me" was so incredibly funny and entertaining to watch as she scrambled around the diner before her first date. Morse's Ogie was basically the male carbon-copy of Dawn and the scenes featuring the pair were some of the funniest in the show. In contrast, Dawson and Anderson's Becky and Cal were humorous in a sassy and witty manor.
Gehling's Dr. Pomatter was so adorably awkward and comforting throughout the duration of the show, and Gehling doing something as simple as eating pie had the audience laughing and applauding. Dr. Pomatter easily became my favorite character within minutes of his introduction. Mueller's Jenna blew me away in every emotional scene, and when the time came to perform "She Used to Be Mine," I was astounded by her tactful portrayal of what it felt like to hit a point in your life where you can't even recognize yourself anymore. Mueller, and the company of Waitress, have definitely nailed the art of transitioning from comedic excellence to heart-wrenching emotion within seconds.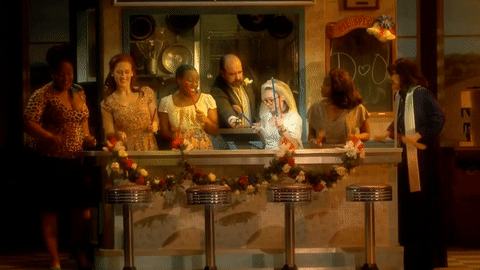 Houlahan as Dawn 
Above all, what I love most about Waitress its humbleness. The show doesn't need an extravagant set, fancy costumes, unrealistically dynamic characters, or an elaborate plot. Eliciting audience responses seemed so effortless because the show is simply (and naturally) humorous and lighthearted. Bareilles' music is beautiful in a minimalistic way—most of the orchestrations played by a subtle, on-stage band. Most importantly, Waitress shares a message we can all take away from: "sometimes life just slips in through a back door" and hands you something unexpected, something scary and out of your comfort zone. But, that "thing" might also surprise you and show you a side to yourself you never knew. And while Waitress may seem like merely a soft and cheery musical about a woman who makes pies, it is so much more than that. It tells the story of a strong woman who finds parts of herself she lost, her independence, and in return, a whole new life to enjoy. To me, Waitress is the telling of female empowerment and the ability to stand up for yourself and be so much more than people expect from you.
Even after reluctantly watching clips from the show before I had seen it, Waitress still came as a huge surprise to me. The level of comedy, the risqué material (I personally wouldn't suggest bringing kids to this show), and the impressive performance from everyone in the cast were able to surpass my already-high-expectations. You don't need to be a woman to enjoy this show, and I am confident that any human who has experienced life would find it equally entertaining.
Stage door experience
At the stage door, you could tell the cast is just as funny in person as the characters they play on stage. I heard a lot of the actors ask the patrons where they were coming from and if it was their first time seeing the show because they were truly interested in the people who came to watch them perform. I also heard a lot of people tell William Popp (Earl) he did a fantastic job at being so despicable, which made him laugh.
I have always been a huge fan of "When He Sees Me" and when I got to speak to Caitlin Houlahan, I told her how much I loved the song, how I sing it at least once a day, and I complimented her on the way she so perfectly executed it. She was genuinely so sweet and told me she shared the same love. She also told me that even before she had auditioned for the show and landed the role of Dawn, it was one of her favorite songs to sing in the shower.
 
Houlahan singing "When He Sees Me" at Broadway in Bryant Park 
Drew Gehling was also incredibly kind and tried to get as many pictures as he could with everyone who fell in love with him during the show. Jessie Mueller didn't come to the stage door, but it was enough just to witness her performance as Jenna.
Background
Waitress the Musical (composed by Sara Bareilles and written by Jessie Nelson) was created and inspired by the movie Waitress—a 2007 Adrienne Shelly film starring Keri Russell. Like the film, the plot is focused on a small-town waitress (Jenna) who aspires to leave her abusive husband and old life behind while doing one of the things she does best: making the most delicious and unique pies. Along the way, Jenna faces a couple obstacles including, but not limited to, her new gynecologist Dr. Pomatter.
Cast at This Performance
Jenna—Jessie Mueller
Cal—Eric Anderson
Dawn—Caitlin Houlahan
Becky—Charity Angél Dawson
Joe—Dakin Matthews
Earl—William Popp
Mother—Molly Hager
Father—Ryan Vasquez
Nurse Norma—Anastacia McClesky
Dr. Pomatter—Drew Gehling
Ogie—Jeremy Morse
Francine—Stephanie Torns
Lulu—Ella Dane Morgan
Please reload