Cats (the revival) was my first official Broadway experience. After a long day of traveling, I considered myself lucky to score second-row mezzanine seats from the TKTS booth in Time Square (an amazing place to get cheap Broadway tickets). As we sat down before the show, it was hard to ignore the eclectic and eye-catching set. The junkyard-style props wrapped around the stage, and there was even an elevated portion on the sides, hinting some of the actors would be performing close to the mezzanine level.
Before I begin my actual telling of my Cats experience, I just want to state that after watching it, I wasn't as big a fan as so many claim to be. It feels pointless sharing this type of opinion about a show which has won seven Tony awards (including "Best Musical," "Best Score," and "Best Book,") but I can firmly say the story line was a bit lacking for me. Nevertheless, hearing "The Overture" still gave me uncontrollable goosebumps.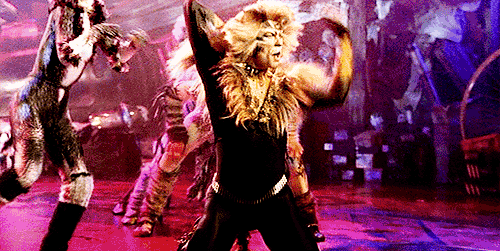 For those who don't know, Cats (based on a poem by T.S. Eliot) is essentially a depiction of the ritual a tribe of "Jellicle Cats" hosts once a year. These Jellicle cats take turns demonstrating their niches, in the very diverse cat society, and often break the fourth wall while doing so. At the end of the "Jellicle Ball" (the story's setting), one Jellicle Cat is chosen to be reborn.
While I felt slightly disappointed by Cats, it was by no means the fault of the cast. Again, I simply found myself bored with the plot halfway through the first act due to the story's repetitive nature. Despite this, the immense talent showcased in this performance was breathtaking and even rekindled my love for dance. Every actor on stage somehow managed to achieve the perfect cat-like manor while avoiding monotony—performing in flawless synchronization while obtaining separate styles and personalities.
One of my personal favorite moments in Cats was Jennyanydots' niche demonstration by Eloise Kropp. Kropp's tap dancing was unlike anything I have ever seen before, and it was definitely one of the most entertaining dance performances I have ever witnessed in general.
While Cats is a show I will probably never have the urge to see again, there was a moment during the show I am certain I won't forget: Mamie Parris' rendition of Memory (the iconic song by Grizabella). Grizabella's character remains subdued for the majority of the show, with the exception of these strikingly powerful couple of minutes—where the isolated and broken cat abandons her recluse nature for a moment of vulnerability and reflection. In addition to the significance and necessity of this scene, Parris herself made it all the more captivating. At the climax of the song, where Parris belted like there was no tomorrow, there was a tangible silence throughout the entire theatre which was gracefully pierced by the sound of her voice. Everything about Mamie Parris' performance was beautiful in every way and encapsulated the emotion which accompanies the pain of feeling defeated while craving a second chance.
Cats was for sure a "Memory" (ha) I will never forget, but for those with a short attention span and the inability to appreciate pure score and talent alone, I would not recommend. That being said, it is one of the most highly acclaimed shows in musical theatre history and if you are curious, I wouldn't let MY opinion alone kill the cat (HA sorry).
Cast at This Performance 
Alonzo—Ahmad Simmons
Bill Bailey/Rum Tum Tugger—Tyler Hands
Bombalurina—Claire Camp
Carbuckety—Aaron J. Albano
Cassandra—Emily Pynenburg
Coricopat—Tanner Ray Wilson
Demeter—Kim Fauré 
Electra—Maria Briggs
Grizabella—Mamie Parris
Jellylorum—Sarah Jane Shanks
Jennyanydots—Eloise Kropp
Mistoffelees—Ricky Ubeda
Mungojerrie—Jess LeProtto
Munkstrap—Harris Milgrim
Peter/Bustopher Jones/Asparagus—Christopher Gurr
Plato/Macavity—Daniel Gaymon
Pouncival—Sharrod Williams
Rumpleteazer—Francesca Granell
Sillabub—Lili Froehlich
Skimbleshanks—Jeremy Davis
Tantomile—Emily Tate
Tumblebrutus—Kolton Krouse
Victor/Old Deuteronomy—Quentin Earl Darrington
Victoria—Georgina Pazcoguin
Cats Chorus—Richard Todd Adams, Jessica Hendya, Nathan Patrick Morgan, Megan Ort

Review
 
Please reload